First serial BMW M3 was presented in the autumn of 1985 at Frankfurt Motor Show, two years after the debut of its main competitor – Mercedes-Benz 190E. But BMW with similar five-speed manual Getrag transmission was faster. Its acceleration to 100 km/h was in 6.7 seconds, while Mercedes-Benz 190E had 7.5 seconds; top speed of both cars was the same – 230 km/h.
Exteriorly, BMW M3 is unlikely to confuse with common 3 Series – a new front bumper with a larger spoiler, rear antiwing and wider wheel arches clearly alluded to the fact that there are not entirely civilian technologies under the hood of this coupe. Trunk lid, door sill and bumper trims were made of plastic, and because of this, curb weight of BMW M3 was limited to 1,200 kilograms. The kit not just transformed modest appearance of 3 Series well, but also provided excellent aerodynamic performance. Aerodynamic drag factor was 0.33 in the first generation of BMW M3! And simply looking antiwings and spoilers significantly reduced lift force at high speed.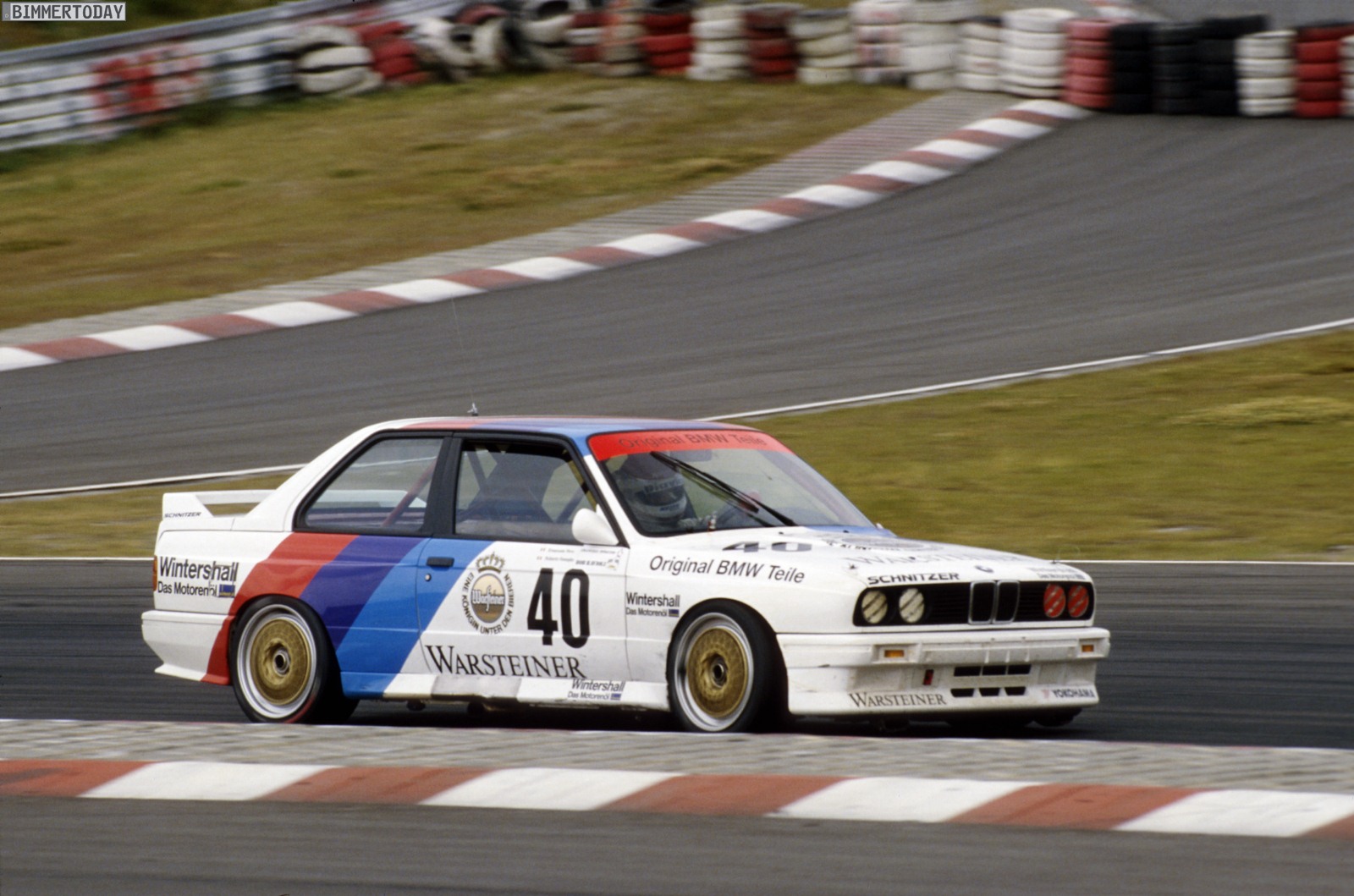 The standard equipment of BMW M3 has already included 280 mm ventilated front brake discs, ABS, power steering and limited slip differential. Rear and windshield of M3 were glued, which had a positive effect on the body stiffness in torsion. Even at that time electronically controlled shock absorbers were mounted on BMW M3. One of three modes could be activated by a switch located on the front panel: Comfort, Normal and Sports.
All this "beauty" was estimated at 58,000 Deutsche Marks, which was not cheap at the time. By comparison: the most expensive modification of civilian 3 Series – BMW 325i convertible was cheaper by almost 15,000 Marks. Despite the high price, there were a lot of people who wanted to buy fast BMW M3. The car was introduced at Mugello racetrack in the spring of 1986, and a year later, in 1987, all 5,000 cars have already been sold out.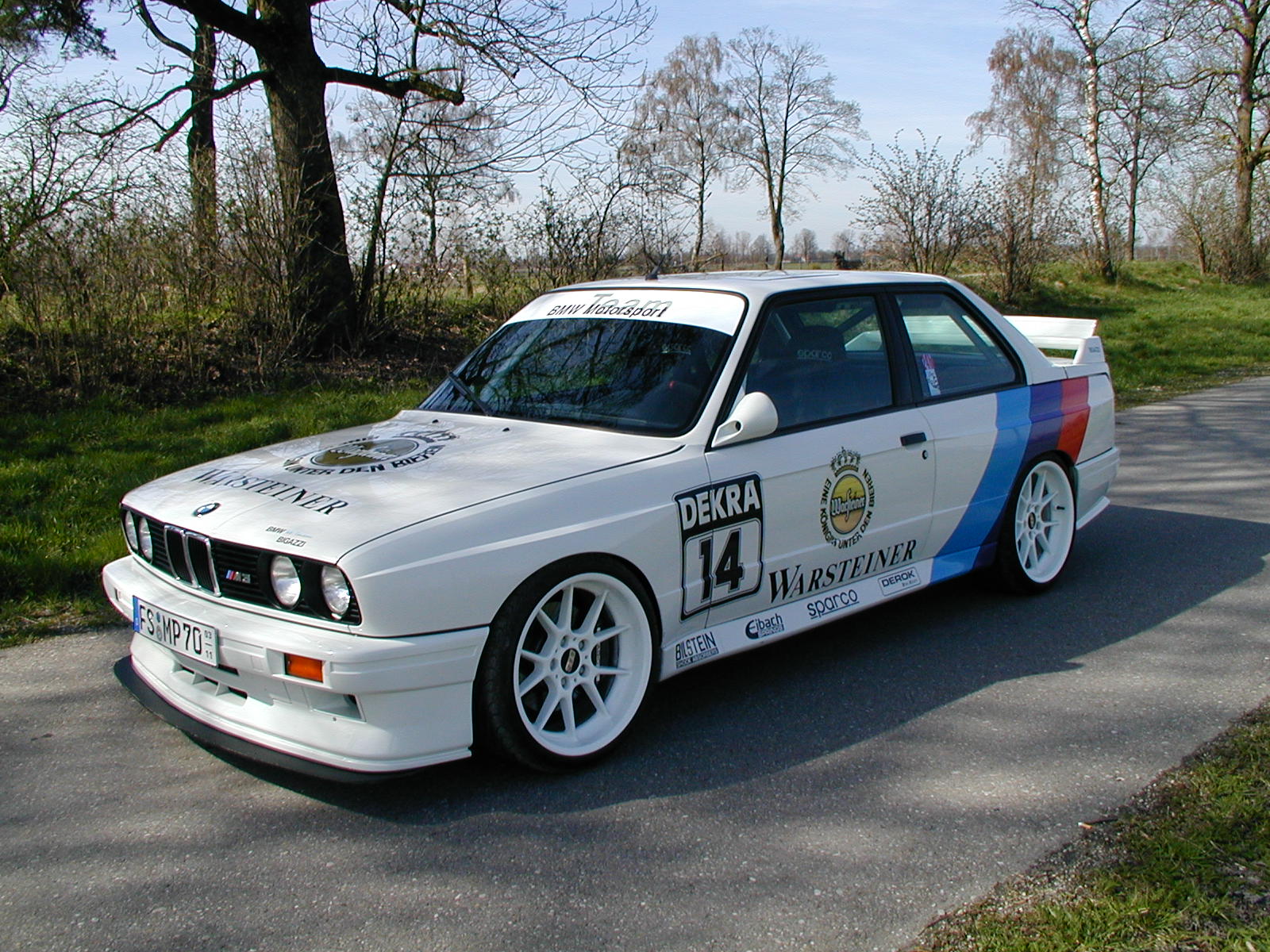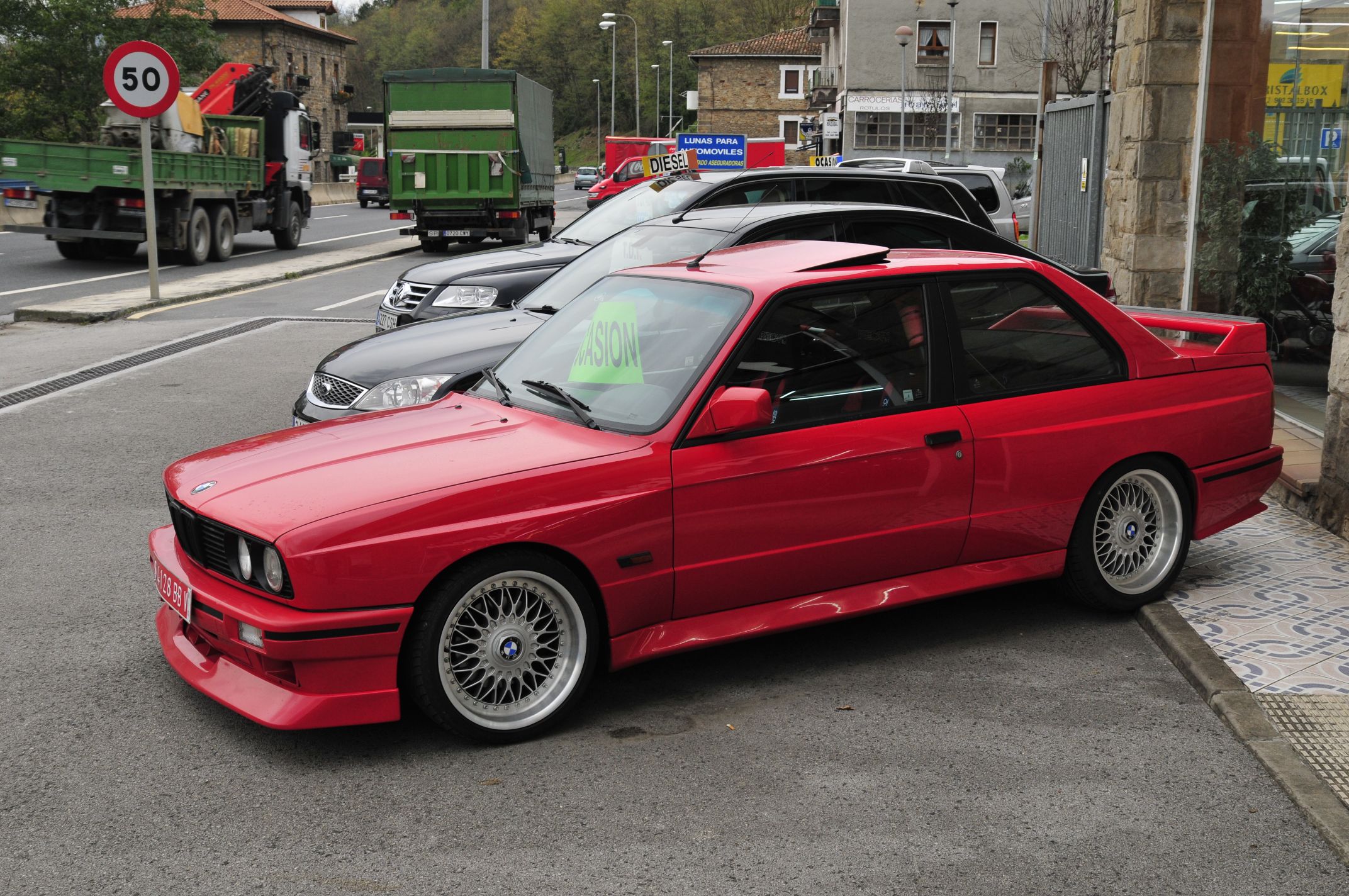 In the same 1987, BMW M3 debuted in a series of World Touring Car Championship (WTCC) races – and this championship itself took the place for the first time. Engine power was increased to 300 horsepower available at 8200 rpm. However, the first stage of the competition ended with a scandal for BMW – all the cars that were in three teams were disqualified because of alleged too thin body panels. In its turn, BMW protested but the judged refused to meet this appellation, citing the fact that time was lost.
Unfortunately, after 1987 season, due to the high cost of participation, WTCC championship was ceased. But at that time, there has been a year as BMW performed at DTM. And the pilot Kurt Koenig managed to win third place at the first attempt in the absolute classification. So, in 1987, Bavarians celebrated a deserved victory.
In the following 1988, there was a slight upgrade of BMW M3 lineup. The company presented M3 Evolution modification where engine power was increased to 220 horsepower, and exteriorly it could be distinguished by more advanced aerodynamic body kit. Also, an open version of BMW M3 Convertible was created. Noteworthy is the fact that BMW M3 convertible prototype was shown in 1985 with the coupe and had all wheel drive system! But only rear wheel drive modification sustained to serial production.
Also in 1985, BMW has lost the title of DTM champion – the best of BMW M3 pilots Markus Oestreich was only fourth at the finish. But in 1989, M3 took revenge in full. The victory in "24 Hours at Nurburgring" race (and even double), was only the beginning – later, BMW M3 has won three years in a row in this race. And BMW M3 again won first and third places in DTM series.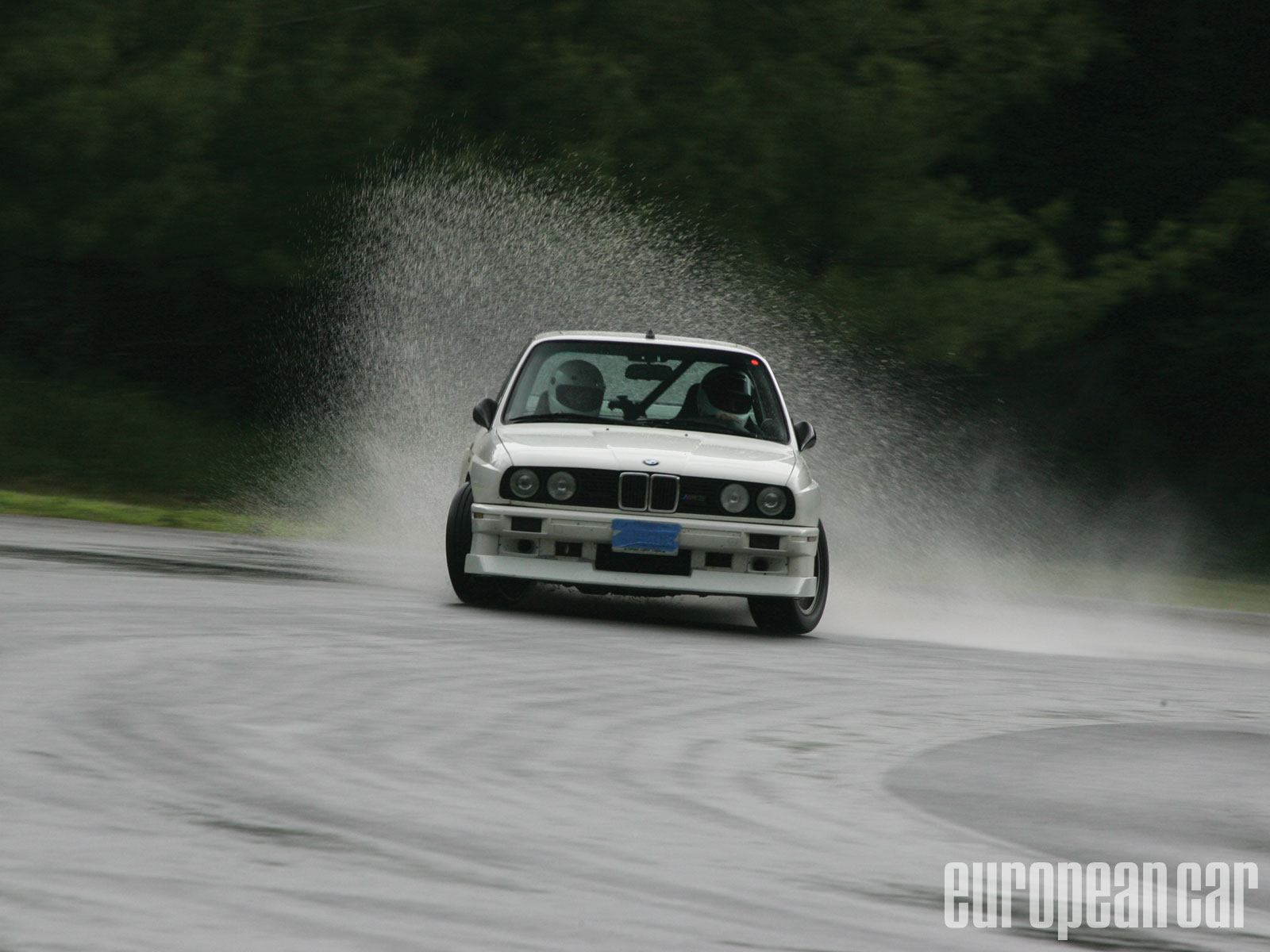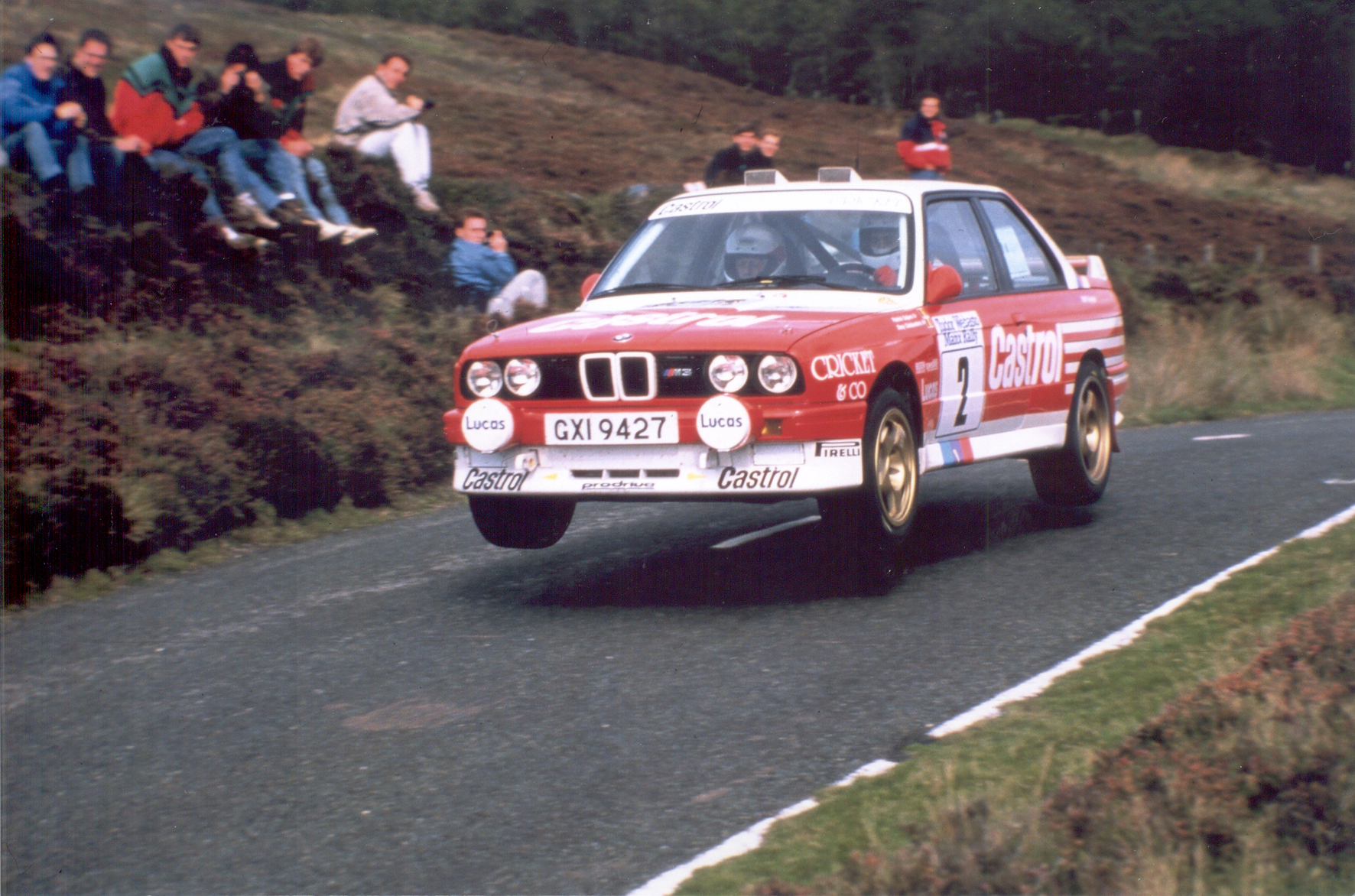 BMW M3 E30 at Tudor Webasto Manx International Rally 1988
Later, the second generation of sports BMW M3 – Evolution II was created. The engine has undergone a major upgrade – its working capacity was increased to 2.5 liters, and power became more than 360 horsepower. There was also a civilian version equipped with a derated 220 h.p. unit. And through the use of lightweight bumpers, trunk lid and thinner glass, the car has become more lightweight for a few more kilograms.
The most perfect modification was BMW M3 Sport Evolution (Evolution III) having the difference in the form of the front spoiler and rear angle of attack adjustable antiwing. Engine power of M3 Sport Evolution has been increased to 238 horsepower. In 1990, only 600 copies of this modification were released accelerating to 100 km/h in just 6.4 seconds with maximum speed of 248 km/h.
The history of the first generation BMW M3 ends at the end of 1991. Within 5 years, 17,970 cars have left the conveyor. But it was by no means a final – since that time, M3 as of right becomes a top of each new generation of BMW 3 Series.
comments powered by